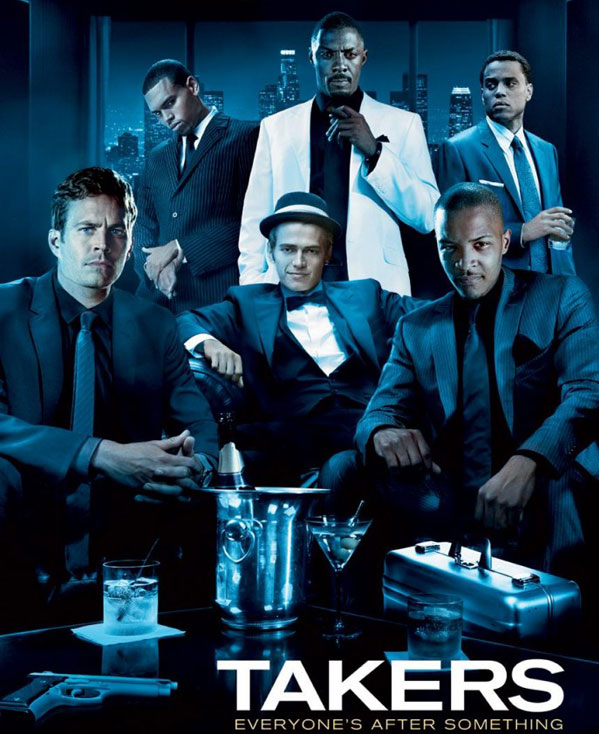 I noticed recently that two nearly identical movies - Armored and Takers - are being released this year. This is no surprise, because this seems to be the case every year (remember how there were two mall cop movies in two months last spring?). Both of these movies are about a group of thieves involved in one big armored truck heist, but their plans go awry as they get in way over their heads. It's a pretty common plot, so I didn't bother to make a big fuss about it until I noticed that Matt Dillon was starring in both movies. This seemed strange.
It's one thing to have two movies about the same thing come out - movies are in development for years, so studios don't realize they'll be in competition until too late - it's another to have both movies star the same actor. It seemed impossible to me that Dillon would field a call from his agent saying "hey, when you finish up this armored truck heist movie, would you like to do another armored truck heist movie?" And then I looked at Dillon's body of work again.
At last count, Matt Dillon has been in 40 different movies. He has played a down-on-his-luck ne'er-do-well who becomes embroiled in a get-rich-quick scheme in fourteen of them (My Bodyguard, The Outsiders, The Big Town, Kansas, Drugstore Cowboy, A Kiss Before Dying, Mr. Wonderful, Albino Alligator, Wild Things, One Night at McCool's, City Of Ghosts, Employee of the Month, Factotum, and Armored) . That's incredible. It would be like Harrison Ford being in 14 separate, unrelated movies where he plays a treasure-hunting archeology teacher. In fact, whenever he's not playing that character, he's often in a movie where another actor plays that character and he's part of the storyline (To Die For, Takers, Bloodhounds of Broadway), evidently because he just couldn't be left out of that sort of story.
Even more mesmerizing is that when I tallied those numbers up, with only a few exception, every movie he was in that didn't meet that description almost did. On five occasions, Dillon played a ne'er-do-well who becomes involved in gang warfare (Over The Edge, Rumble Fish, The Saint of Fort Washington, Deuces Wild, To Die For), or a sleazy, self-centered protagonist/antagonist willing to do whatever it takes to get what he wants, whether it be sex (Little Darlings), the affections of married club singer (Rebel), fame (Singles), the love of Cameron Diaz (There's Something About Mary), or to defeat Herbie in a race (Herbie: Fully Loaded). The rest of his roles are a collection of drifters (Frankie Starlight), down-on-his-luck poor kids desperate for cash (Tex, Liar's Moon), and occasionally, morally bankrupt members of the law who become embroiled in the crimes that they're investigating (Golden Gate, Crash, Nothing But The Truth, Takers). He often plays characters who spend the whole movie trying to sleep with married women (Beautiful Girls, The Big Town, Rebel) or high school students (Wild Things), or the twin sister of the woman he murdered (A Kiss Before Dying). He has played a character named "Rebel" (Rebel) and another named "Regret" (Bloodhounds of Broadway). This is a man who only knows one role - desperate sleazeball.
What's strange about this is that Matt Dillon is, empirically speaking, quite clearly an excellent actor. He's Oscar-nominated, and was once the best part of an Best Picture winner (Crash). On the occasional roles he does try to show some range -usually, as a sleazeball who has some heart left in him (Drugstore Cowboy, Crash, Factotum, Singles), he's always excellent. But then his next role is the exact same as the last one he played.
Some people are typecast into certain roles and can't escape from them, and you'll see them complain about how they're always doing broad comedies or indie dramas or whatever they're stuck in, but Matt Dillon is a man typecast into a certain role who seems to have no desire to do anything else. This is the man who, twenty-four years into his career, wrote and directed a film (City of Ghosts) and cast himself as the star. In it, he played a con artist who travelled to Cambodia on a get-rich-quick scheme. I imagine it was a break for him from filming Employee of the Month, which was released the same year, about a fired bank employee who returns to the bank he worked at to hold it up.
So when I think about it, it wasn't remotely ridiculous for Dillon to agree to do both Takers and Armored. What would be strange is if either of those movies thought about going forward without him.