It turns out lists are fun! More lists!
Favorite Gay Writers
Since I did a list of favorite gay musicians, I decided I wanted to also do a list of favorite gay writers. This turned out to be tricky, since it's obviously hard to identify who's gay and who isn't when a writer's been dead for several generations and didn't see fit to leave a definitive statement on his or her sexuality somewhere in their will. And that's without considering that the practical definition of what's considered homosexual has varied throughout history. So, instead:
Favorite Gay Writers,
Based Entirely Upon Heresay And Internet Speculation
5. Walt Whitman
Impassioned and bold, it's moving even if you hate poetry. I remember stumbling on it in middle school and being shocked by it. "They're having us read this? This is... filthy! Awesome!" This was also during a stretch where I was memorizing synonyms from the thesaurus for "fat" and "ugly" in order to more esoterically insult people. I was not a fun middle schooler to spend time with.
Read: Leaves of Grass
4. Hans Christian Andersen
Have you ever read 'The Little Mermaid'? The Little Mermaid is given a choice between murder and suicide, and picks suicide. It's amazing. How much would he have hated Disney?
He also wrote 'The Little Match Girl,' 'The Ugly Duckling,' 'The Princess and The Pea,' and 'Thumbelina.' You would be suprised how dark some of those storie actually are.
Read: The Complete Fairy Tales

3. David Sedaris
Capable of finding humor in everything, including his own OCD, he's engaging to read, though it seems like he'd be tough to hang out with in person. He's also a NPR commentator, and reads his work aloud on some of their programs. I particularly recommend listening to "6 to 8 Large Black Men," his piece on Christmas in Holland. Here's a link.
Read: Me Talk Pretty One Day.
2. Ralph Waldo Emerson
Probably not gay, but seemed to have at least some sort of major crisis of sexuality during is lifetime. It always bugs me that people prefer Thoreau over Emerson. Thoreau's a more accessible writer, but Emerson was brilliant. It is near-impossible to quote Emerson and not sound like reasonably intelligent.
Read: Essays (First Series)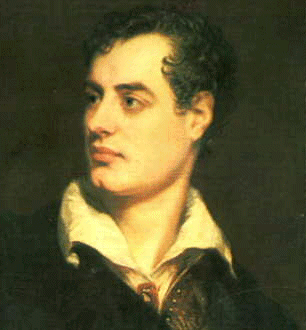 1. Lord Byron
At least these rumors are slightly more founded: Byron's publishers instructed biographers to avoid disclosing his bisexuality. Byron's work is remarkable since it shows tremendous passion and fervor towards it subjects, but we know from Byron's life that he burned hot and cold in all his relationships, destroying the reputation of a number of women, one of whom described him as "mad, bad, and dangerous to know." Somehow, this makes his work more appealing to me. I particularly enjoy "So, we'll go no more a roving."
Read: Selected Poetry
Least Favorite
Herman Melville
Call me tedious.
Read: Moby Dick. If you must.