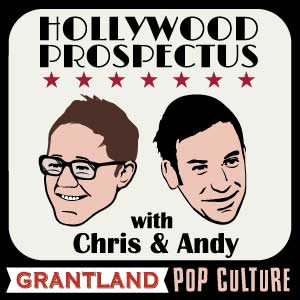 Let's start with the place I stole the idea of The Wall from - Andy Greenwald and Chris Ryan's Hollywood Prospectus Podcast for Grantland. Despite the fact that they're recording from different coasts, the chemistry here between the hosts is basically unmatched on any other podcast I heard, which comes from their decades-long-length friendship, stretching back to their days as writers for SPIN magazine (remember music magazines, guys?). Now that Ryan is the editor of Grantland's entertainment division, and Greenwald its head TV writer, it's a refreshing pleasure to hear the two of them call each other and riff on television, music, movies, or whatever seems to be bouncing around pop culture.

They're both so attuned to each other's rhythms and nearly perfectly in sync in terms of taste that they're almost a hive mind when breaking down why Homeland has gone off the rails, or why everyone should check out the new A$AP Ferg record; but even when they draw firm lines in the sand over something, you get the sense they're just trying to get a laugh out of the other person.

If you wanted to check it out, I'd recommend checking out the October 27th episode where they break down what they loved and hated about 'Birdman' and compare Taylor Swift's "1989" to Fleetwood Mac's "Tango In The Night." But I'd also recommend seeking out Andy Greenwald's interview podcast, particularly the episode where he sits down with Jenny Lewis about her new album "The Voyager," and she tells some of the most incredible stories about working with Ryan Adams (the man, God bless him, is both a musical genius and a borderline insane person). It's gone from the podcast archives, but I dug up the link online.

Others receiving votes: Serial (Well, of course. I'm a white person), Drunk Ex-Pastors, How Did This Get Made?